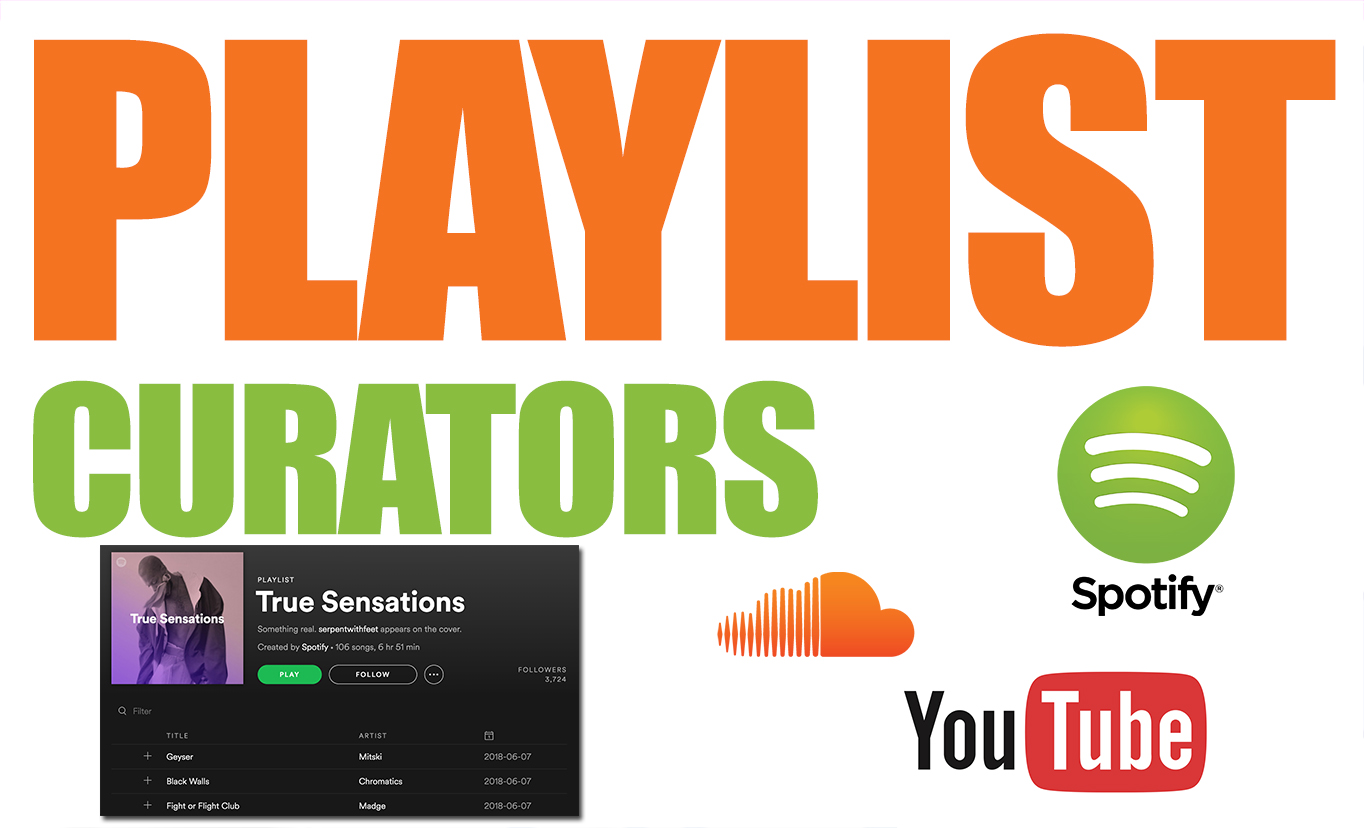 One of the fastest and easiest ways to get a huge spike in streams on Spotify, SoundCloud, and other streaming services is by getting featured on already established playlists.
Unfortunately, it can be pretty time consuming to find and connect with people that have large Spotify playlists that would be interested in featuring your music.
However, there are some websites that make it super easy to submit your music, and if they like it, you could be featured on huge playlists that will get you a ton of streams and new followers.
Below is a list of sites that curate playlists that you can submit your music to for free:
Genres: Chill, EDM, Future Bass, Hip Hop, House, Indie, Pop, RnB, Rock, Trap
Genres: Alternative, Americana, Country, Folk, Indie, Indie Pop, New Music, Punk, Roots, Singer-Songwriter, Ska/Reggae
Genres: Chill, Electro, En Espanol, Folk, Happy, Hipster, Indie/Alternative, Latin, Love, New Music, Oldies, Party, Pop, Rock, Sad, Urban, Workout, World Music
Genres: Alternative R&B, Disco, Electronic, Experimental, Folk, Funk, House, Pop, Rock, Soul
Genres: House/Electronic , Disco, Triphop/Electronica, Hiphop/Urban, Chillhop/Beats, Chill, Rock/Indie, Pop/Commercial, Drum & Bass, Reggae/Dancehall, Afrobeats/Afropop, Latin
 Genres: Rock / Guitar, Electric, Urban/R&B, Pop, Other
Genres: Blues,Christian, Classical, Compilation / Mix, Country Music, EDM, Folk, Holiday Music, Latin, Metal, Pop Music, Punk, Rap Music, Rock Music, Soundtrack, World
To get additional exposure, you may want to submit to Music Review Sites and relevant genres from this List of Music Blogs