One of the most common problems that professional musicians have is making a good living, without having to take on a second or even third job.
The thing is… with all of the resources that are available for musicians nowadays, there is no reason why you can't be making a 5 figure a month income just from your music career.
Okay… that sounds great and all, but where do we start?  If your music career is not even making you enough money to pay rent, how are you going to turn it into a 5 figure a month business?
The first step is to realize that success (however you define it) isn't as difficult to achieve as you think.
Here's one of my favorite quotes from a personal hero of mine…
 "There seems to be some perverse human characteristic that likes to make easy things difficult." –Warren Buffett
In my experience, this quote has proven to be quite true.  I know that I have OFTEN made things more difficult than they needed to be in my own life, and I see others doing it everyday.
I'm willing to bet that you probably share this "characteristic" as well.
So if it's human nature to make things more difficult than they should be, how the hell does ANYBODY ever achieve success?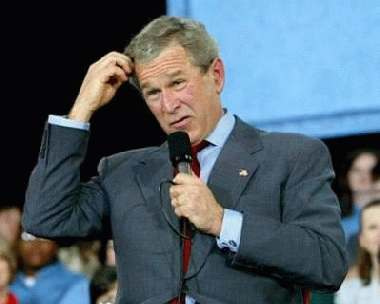 Bush Confused | Photo: MSBuckeye/Flickr/Creative Commons License
Something that really helps me is to look at people that have already achieved the type of success that I'm looking for.  What did they do to become successful, and how can I follow in those footsteps?
The truth is, nobody is ever reinventing the wheel when it comes to being successful.  They're just polishing it a little…
Does that make sense?  Probably not, but here's what I mean….
Everybody that is successful today can attribute some (if not all) of their success to people that came before them.  Following the steps that someone else already took to achieve success will help you achieve your goals, and save you a ton of time experimenting through trial and error.
So let's take a quick look at some people that have already had a ton of success as musicians.  These are all people who are especially great at promoting their own music, without relying on major record labels for resources and financial backing.
Free Is The New $4.2 Million?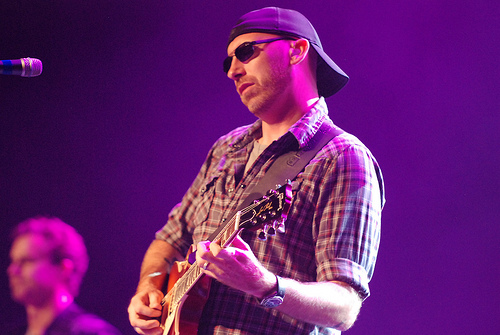 Corey Smith | Photo: comecloser/Flickr/Creative Commons License
Our first case study is Corey Smith.  This is a guy that went from teaching Social Studies at a Georgia High School to raking in millions of dollars a year as a professional musician.
His Secret?
Besides being a very talented musician…  Corey has focused on giving as much value as possible to his fans.
By giving his music away for free, Corey has been able to gain tremendously more exposure (and do it faster) than he would have otherwise.
I highly advocate the business model of free. The music industry has changed a lot in the past decade, and so have the revenue streams.
Digital music downloads should be viewed as advertising, rather than a revenue stream.
Can you imagine if every major corporation could get their customers to willingly download mp3s of their jingles? They would go crazy for that kind of exposure.  Instead, companies have to pay millions of dollars to force people to listen to their advertisements while they're driving to work or watching television.
You, as a musician, are in a unique position, because your fans WANT to hear your advertisements… that is, they want to hear your music.  They will gladly take a free download and share it with their friends.
Once you get a good deal of exposure, and grow your fan base, THEN you can monetize it through concert tickets, t-shirt sales, etc.
Corey promoted his own music without signing to a major record label.  He gave his music away for free, and even set aside free (or at least heavily discounted) concert tickets for members of his fan club.
After building a fan base on the foundation of free, Corey Smith grossed $4.2 Million in 2008.
(I know what you're thinking… 2008 was a while ago. How much did he make in 2011?   …well, I don't know. Sorry, I couldn't find that info, but I would love to know.  If you do have any more up-to-date figures on what kind of money Corey Smith is making these days, please don't hesitate to let me know in the comments section.)
The point is Corey Smith has made millions by giving his music away for free.  It worked for him and it can work for you too!
Connect With Fans And Give Them A Reason To Buy
Next, let's shift our focus to good ole' Trent Reznor…
Btw, I'm totally stealing this from Mike Masnick…. Actually, now that I think about it, I'm probably going to steal a lot of other stuff from him in the future, so the least I can do is point you to his blog (well, the least I can do would be nothing, but you know what I mean) >>Check Out Mike Masnick's Blog - TechDirt
Anyway, I think that Mike himself can best get the point across in this video…
Now for those of you that can't turn on your speakers, because you're reading this at work or in class…  I'll go ahead and summarize for you.
Connect With Fans (CwF) + Reason To Buy (RtB) = The Business Model ($$$$)
Trent Reznor's focus, time and time again, has been to provide as much value to his fans as possible.  This includes giving away music for free, but it goes beyond that.
He doesn't just give away his music… he gives away multitrack files of his music, so fans can actually remix his music.  Reznor encourages fans to remix his music, and he facilitates the sharing of that music on his site at http://remix.nin.com/
Now that's just one example of the many ways that Reznor has offered a lot of value to his audience, but the point is he's connecting with his fans.  When you connect with your fans, it makes them WANT to spend money with you… but before they CAN spend money with you, you must give them a reason to buy.
All that I mean by 'a reason to buy' is something that has value to fans that they can't download for free.  This would include things like concert tickets, physical CDs, t-shirts, etc.
Trent Reznor always puts his fans first.  Giving the fans what they want and not putting a focus on money is what's proven successful for him time and time again.
By engaging fans in unique ways that are completely free, Reznor can then sell his loyal followers $300 limited edition boxed sets, color changing CDs, and tickets to mind-blowing live performances.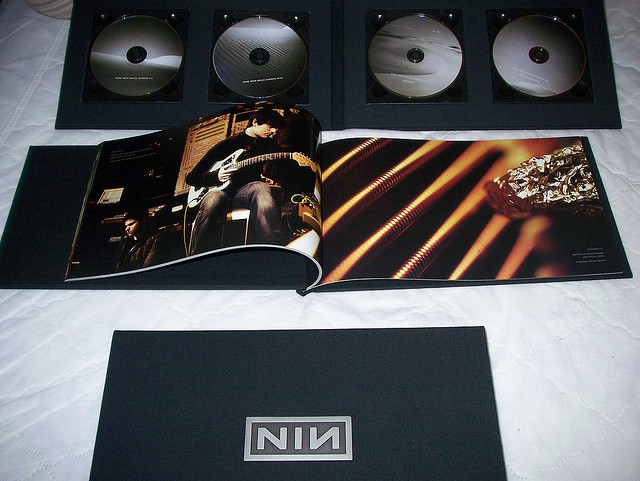 NIN Ghosts Deluxe | Photo: maddenman2000/Flickr/Creative Commons License
The thing to keep in mind is that you should always put the fans first.  That is the key to building a loyal following, as Reznor has shown us.
Just remember, at some point you DO have to charge the fans for something.  Otherwise you won't make any money at all, and you won't have the time or resources to come up with creative ways to interact with your fans and give them value.
I know that Trent Reznor and Nine Inch Nails had a lot of major label support to launch their initial success, but this simple principal still holds true.  Connect with Fans and give them a Reason to Buy.
It doesn't matter how big or small your band is, CwF + RtB = the ultimate key to long-term success in the music industry.
Following In Reznor's Footsteps
Remember when I said that you should follow the formula used by people that have already achieved the type of success you're looking for.
Well, here's a great example…
If you watched the Mike Masnick video above, you saw what happened when Trent Reznor released Ghosts I-IV using a tiered pricing structure of packages ranging from free downloads to a $300 "Ultra-Deluxe Limited" edition.
Not long after that, Nine Inch Nails Drummer, Josh Freese decided to do something similar…
What started out as sort of a joke, actually lead to quite a bit of publicity surrounding the release of Freese's album, Since 1972.
The packages range from $7 to an astounding $75,000.  To the best of my knowledge, the $75,000 package still hasn't sold.  However, Freese was, remarkably, able to fetch $20,000 for one of his album packages.
I highly recommend that you take a look at what came with each package.  You will undoubtedly be amused.  Check them out HERE
The packages are on the side bar to the right. Start with $7 and work your way up.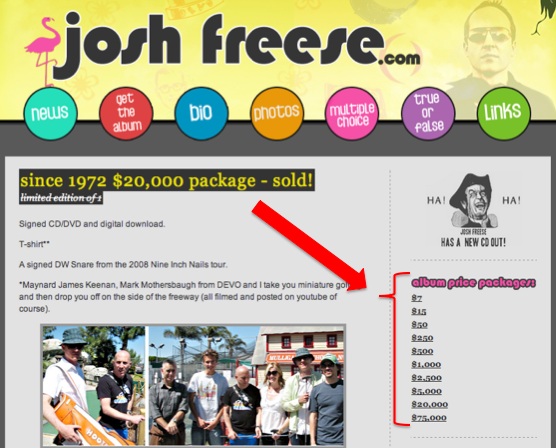 Okay… Give Away Free Stuff, Have A Sense of Humor, and Sell Things That People Can't Download For Free… Gotcha! Now Where The Hell Do I Start?
If that remotely resembles what's going through your head right now, excellent!  I'm glad you made it this far, because I'm about to help you answer that question.
If you're a performing musician, and you're looking to book more gigs, you should absolutely be using Sonic Bids.

Use Sonic Bids to start booking more gigs.
Sonic Bids is a great resource for musicians that play (or would like to play) a lot of live shows.  I was first introduced to Sonic Bids about four or five years ago, while interning at an artist management company in Nashville, TN.
I was working with, now famous country singer, Josh Thompson.   At the time, he had just finished a demo that was being shopped around to area record labels.  It wasn't too long before Josh was able to land a deal with Columbia Records Nashville.
A good year or so went by between the time that I first started working with Josh and the time that he started to receive backing from Columbia records.  During that time, I handled much of Josh's online presence, which included his profile on Sonic Bids.
A profile on Sonic Bids was not the sole key to Josh's success, not by a long shot.  It was, however, an invaluable resource for getting exposure and paying the bills while he waited to get picked up by a major Nashville label.
Sonic Bids is very affordable, and you should not have any trouble getting a very good return on your investment.  They also offer a free trial, which you can sign up for HERE
By the way, I don't get paid one cent to endorse or promote Sonic Bids.  I genuinely think it's a great service, that you will get a lot out of if you're a musician looking to book more gigs.
Give Your Online Presence Some Topspin
Topspin Media is a web-based platform that helps you manage your overall online presence.  The service offers a lot of great tools to help you engage your fans and find new ones.
One of the primary benefits to using Topspin is that it makes it easy for you to sell downloads, merchandise, concert tickets, and more.  Topspin has all kinds of widgets that allow you to incorporate your online store into your website, blog, social media pages, etc…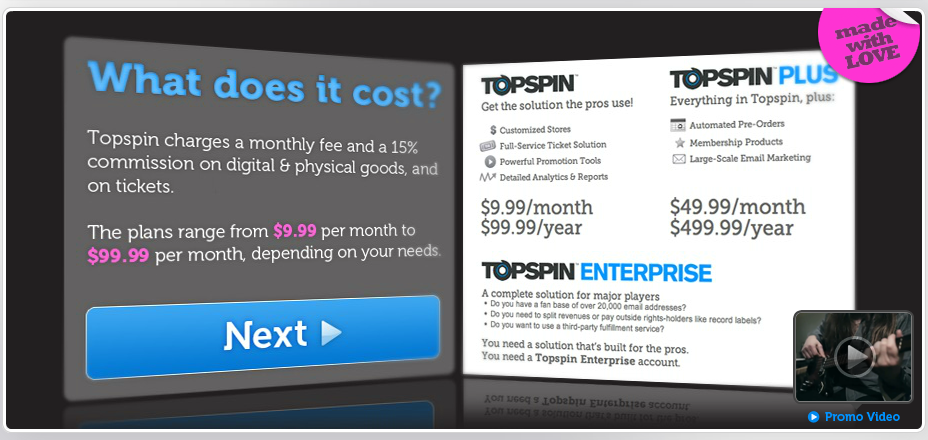 I would recommend starting out with Topspin's basic package.  It's only $9.99 per month, and it will help you get familiar with the platform and what it offers.
Once you're familiar with the platform you may decide that you want to upgrade to one of their premium plans.  The premium plans are a bit pricey, so I definitely suggest familiarizing yourself with the service before diving right in to Topspin Plus or Topspin Enterprise.
Once again, I have not been paid to promote or endorse this product.  I just honestly feel that it could really help you make more money as a musician.
Skyrocket Your Success With Mobile!
Okay… so, unlike the previous recommendations, I do get paid if you use the next service.  That's because I created it.
Originally, I decided not to promote my own service in this blog post, but I just really feel like I can't complete this post without at least mentioning the power of mobile marketing for your music career.
I don't want this post to turn into a sales letter, so I'll try not to make it sound too much like a sales pitch.  However, I do genuinely think that this service can really help your career as a musician.  After all, that's why I created it.
It's called JamMob…  UPDATE: JamMob is now YepText!
In a nutshell, JamMob is a mobile marketing platform that primarily relies on text messaging to interact with and engage your fans.
The service allows you to collect the cell phone numbers of all of your fans, so you can send out a text blast directly to your fans anytime you have something that you just really want them to know about.
This is an extremely powerful tool, and you will want to be very responsible with it.  The reason that it's so powerful is that 97% of text messages get read.  If you have any experience with advertising, you know exactly how mind-bogglingly impactful that can be.
Email marketing is one of the most powerful tools for directly reaching your fans, clients, customers, etc… But even a good open rate for emails is only 20%.
The reason that I say you need to be responsible with it, is BECAUSE it is so effective.  Since everyone you send the text to is pretty much guaranteed to see it, you have to make sure that you are only texting people that WANT to receive it.
Fortunately, I've made it very simple to ensure that you're only reaching fans that want to receive messages from you.  You simply have your fans text (YOURBANDNAME) to (YOURSHORTCODE), and they are immediately signed up to your list, so you can keep them up-to-date on album releases, new tracks available for download, tour updates, and so on.
I created this short video to help explain how it works…
So, just like any monthly service… Be sure to sign up for the FREE TRIAL first.  Once you familiarize yourself with how the platform works, you can then go ahead and sign up for a package that best suits your needs.
#1 Secret To Success… Take Action!
I think that part of what Warren Buffett was talking about in the quote I referenced at the beginning of this post has a lot to do with the most underrated "secret" to becoming successful…
It's so simple, and so obvious, yet it is probably the most overlooked part of any strategy for success.
All too often people try the "ready, aim, fire" approach to achieving their goals.  There is absolutely nothing wrong with that all.  The problem is that more often than not, the "ready, aim, fire" approach turns into "ready, aim, aim, aim, aim, aim… forget what you're aiming at, move on to the next thing" approach.
While I do think that it is very advantageous to have a solid plan in place before taking action, for most people I would suggest just going for it!  Don't worry so much about making mistakes.  That will happen no matter how much you plan.
If you ever feel like you've had the same goals for a while, but you just can't seem to get your action plan perfect, allow me to suggest an alternative strategy…
"Ready, Fire, Aim"….
Just go for it!  A lot of times "planning" is just an excuse for procrastinating.
I guarantee that you'll figure out what works and what doesn't work a lot faster through trial and error than you will by spinning your wheels trying to plan for every possible outcome.
Whatever you're doing, whatever you're goals are… Take Action Now!  …that's how you're going to make 5 figures a month as a musician.
Featured Image: Money | Photo: 401K /Flickr/Creative Commons License