It can be quite the nightmare waking up to a message on your Facebook Ad account telling you that your account is disabled. You've worked tirelessly planning those ad campaigns and put some of your hard-earned cash into making it work. So what are you to do? Luckily, you're certainly not the first person to see a message like that, and you won't be the last. Today we'll walk you through exactly what to do if your Facebook Ad account gets disabled.
What to Know Before We Start
First, let's get the obvious out of the way. If you are intentionally violating Facebook's terms of service, you're not going to have a lot of luck with these strategies. There is a reason why these rules exist, and that's to keep scammers and other less-than-savory folks from utilizing the platform. Let's go ahead and assume that you were not in violation of Facebook's policies regarding content and ads. If that is the case, there are a few things you should try first.
Request a manual review of the account
Wait it out (sometimes your account will get turned back on by Facebook's team)
A lot of people will see a disabled account go straight toward creating another one. While this might work in certain situations, if you are truly violating terms of service, that account will eventually get disabled as well. Learning why your account may have been turned off is a great way to understand the rules and play by them in the future.
Why Was Your Account Disabled?
Let's start off with a dose of reality first; your account was more than likely not disabled by a human. In most cases, a bot will disable your account if it gets flagged. This is based on the platform's algorithm, and many other social media platforms have them too. For some reason, your account shows signs that it has either violated ToS or is a prime candidate.
It's worth noting again that these systems serve a purpose. Facebook Ads get so many scam accounts it's almost impossible to keep them all away. The algorithm helps keep the platform clean from really dangerous material that can prey on people. The idea is that the algorithm is the first step in the review process. It weeds out the majority of the scams and fakes.
Then it usually gets reviewed by a real breathing human. But not all accounts get reviewed; you'll have to request a review — and most scammers won't. In most cases, you got flagged for doing something suspicious but not necessarily a violation. This happens a lot with new accounts as they are the prime driver of the scams and crimes. If you've got a new account, the chances are that a manual review will clear up any issues.
Reason Why Your Account Was Flagged
The top thing you should know is that Facebook will consider it a violation if you "attempt to create new advertising accounts after we [Facebook] enforce on existing accounts for violations of our policies." So, while you might think that opening a new account is a great option, you could be doing more harm than good.
Understanding what you did wrong can save you from more issues down the road. The problem is that Facebook isn't too keen on letting you know exactly what you did wrong. You'll have to do some thinking to figure it out. They'll let you know which rules you broke, but not what broke them. You can find this information in your Facebook Business Account Manager.
Most of the time, it's an issue with your ad creative, either the image or video, or even the text in your ad. For artists, this can be troublesome since explicit images, text or lyrics can easily flag an account. Understanding how to leverage the ad platform as an artist can be tricky. Remember, certain subjects just aren't going to fly in ads. While they may not have anything to do with your ad, it can still get flagged by the algorithm's filters.
It's also worth noting that while these filters have advanced, they still have some problems. You might get flagged for using special characters in your text since this is a common strategy for scammers looking to circumvent the filters. In these cases, a manual review will clear things up.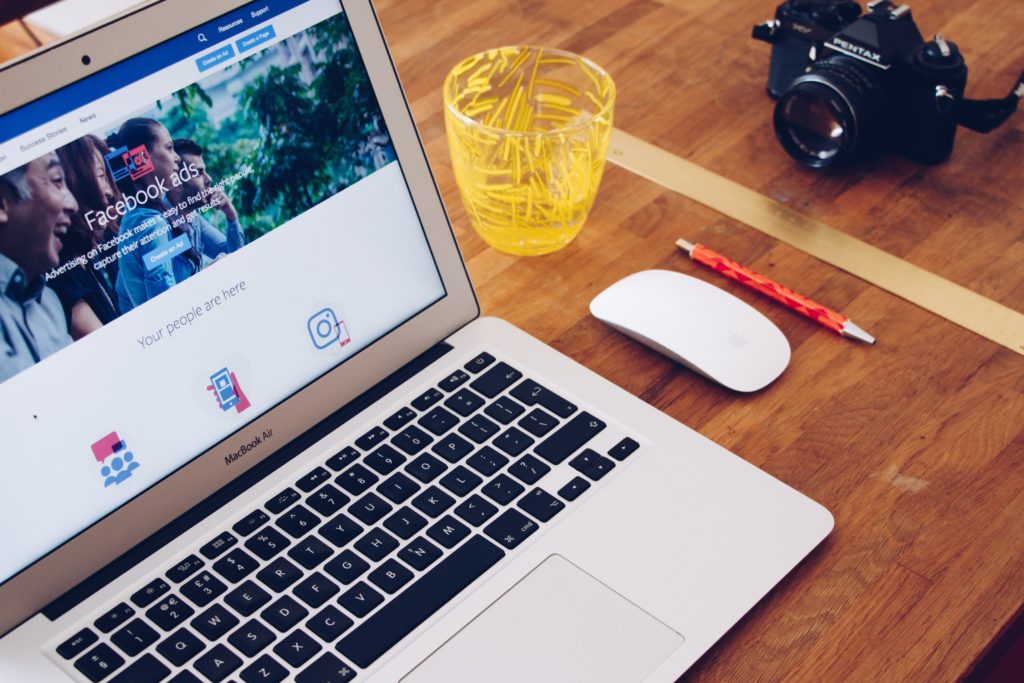 How to Recover Your Account
Once you see the red screen letting you know your account got disabled, click on the more details option. This will take you into your Facebook Business Account and give you a list of all the possible violations. On the right of this page is where you'll find the button you need, the manual review button.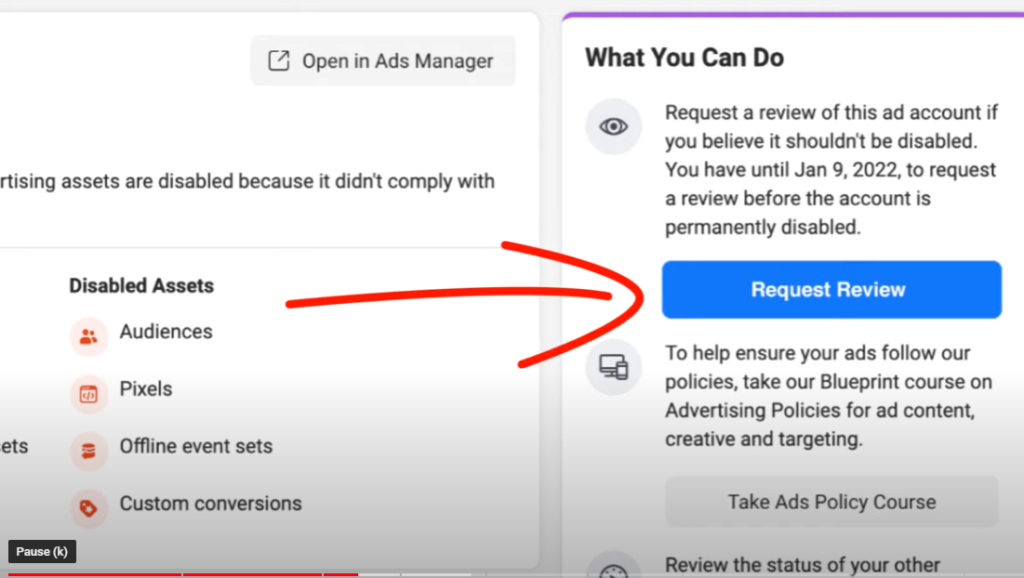 If, for some reason, you can't see the details, you can still find this information in your Facebook Business Manager. You can find the account quality page through the all tools button on the sidebar; it's the three lines. You'll need to find your ad account, and then you should see the request review button.
How long will this take? Well, it depends. Sometimes it can take a few hours or days; sometimes, it takes months. Facebook isn't the most responsive when it comes to customer service so prepare for the worst, but you never know! If you're in a hurry, your best bet is to create a new account, but there is a bit more you need to know.
Creating a New Ad Account
Before you think this is the easiest way back to running your ads, there are a few things you should consider. Mainly that you may verify your identity before you can use your new account. In some cases, the platform will want you to verify your identity or verify your business. If this is the case, you'll need to provide some documents to prove who you are.
Here is what you might need:
Government ID — Driver's license, passport, etc.
Business Validation — Articles of incorporation, bank statements, etc.
Domain for website
If you're in a rush and need your account back, opening a new account can be a good option. If you've got the time for a review, though, it's a good idea to wait it out, as opening a new account can cause some issues if you're not careful.
Tips for New Accounts
Here are some helpful tips to get you back on the platform without getting a nasty disabled message again:
Change things up — Run ads differently, with different text and maybe even a different landing page.
Play it safe — Avoid being overly hype-y, or pitch too hard. You may even want to avoid emojis and special characters in your text. Err on the side of caution.
Wrapping Up
It can be a real pain to deal with a disabled ad account. The reality is, you probably didn't even violate any rules. Regardless, you're still going to have to move through the review process to get things back working. Also, make sure you don't just open a new account without learning from what caused the problem in the first place. This can lead to even more issues!