More people than ever are listening to Internet radio.  While terrestrial radio is on the decline, Internet radio is growing faster than ever.  This is good news for independent musicians.
Why is the growing trend towards Internet radio good news for independent musicians?
Millions of people listen to Internet radio, so musicians have the opportunity to reach literally millions of new listeners if they can get their music on one of the top Internet radio services.
When it comes to terrestrial radio, small college and independent radio stations have always been good outlets for independent musicians to attract new listeners.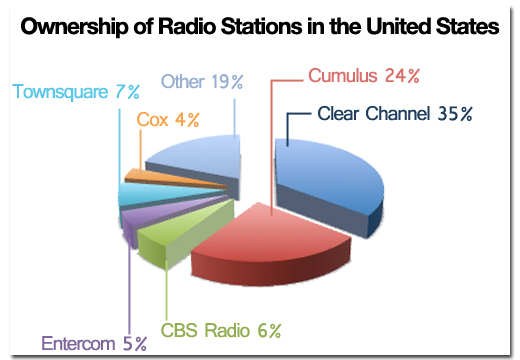 Unfortunately, the type of terrestrial radio stations that most independent artists have any chance of getting their music on simply don't have anywhere near the reach of large corporate owned stations.   The large corporate owned radio stations primarily feature artists backed by major labels with very deep pockets, and it's the large corporate owned stations that control the vast majority of the airwaves.
Percentages are approximate based on data at Wikipedia: Radio stations in the United States by owner
Clear Channel Communications and Cumulus Media collectively own about 60% of all radio stations in the United States.  Major investment firms, THL Partners and Bain Capital in particular, have held a substantial portion of ownership interest in Clear Channel Communications, Cumulus Media, and Warner Music Group simultaneously.
All major labels and all major media outlets are subsidiaries of much larger conglomerates that have more financial interest in promoting their own artists than actually sharing a variety of music with radio listeners.  This type of conflict of interest is one of several reasons why it's virtually impossible for the average independent musician to get on terrestrial radio.
Internet radio is an outlet that can really help independent musicians get more exposure to new listeners.  Now that's not to say that anyone can get their music into regular rotation with the most popular music on Pandora, but Internet radio does provide a lot of opportunities for independent musicians to get their music to the masses.
All of the top Internet radio services are still going to mostly feature music from major label artists.  Even though many Internet radio services have less incentive to cater to corporate interests than most terrestrial radio stations, artists that have a proven track record are still going to get priority play.  It's also important to be aware that, just like terrestrial stations, some Internet radio stations are owned by larger corporations.  For example, Last.FM is owned by CBS Music Group, and iHeartRadio is owned by Clear Channel Communications.
Music Discovery
Despite the fact that many of the same corporations that dominate the terrestrial airwaves are now competing for market share with Internet radio services, there are considerably fewer barriers to entry to compete online.  As a result, it's more difficult for companies like Clear Channel and Cumulus to completely control what music gets played and what doesn't.
There is another very important reason why Internet radio is a viable promotional tool for independent artists.  Many of the more popular Internet radio services have an "artist discovery" feature that is intended to expose listeners to music they've never heard before.  This feature is what makes it possible for independent artists to get their music in regular rotation with more popular, big-name artists.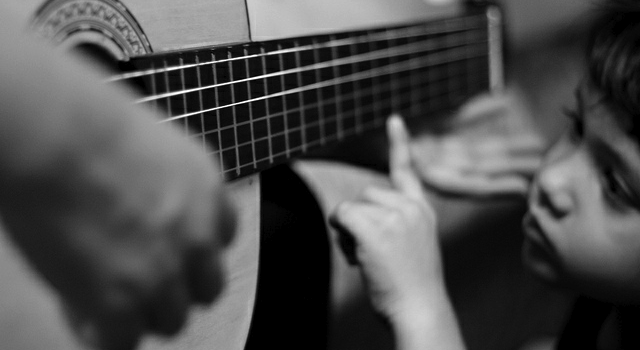 Let Me Try | Photo: appropos /Flickr/Creative Commons License
Independent artists need to be doing anything they can to get their music in front of as many people as possible.  This means submitting tracks to multiple Internet radio services.  The needs of each Internet radio service, and their respective criteria for reviewing submissions, will vary.  That's just all the more reason to submit tracks to multiple services.
Submitting Music to Internet Radio Services
Let's take a look at just a few of the Internet radio services that musicians should be submitting their music to.
The most popular Internet radio service in the United States with over 80 million users is Pandora.  The service is unfortunately not available outside the US at this time.
Pandora was the first major "artist discovery" platform to hit the market.  It's been around since 2000, and currently has over 800,000 tracks in it's library.  Averaging a reach of about 20 million listeners per month, it goes without saying that every musician looking for more exposure should aspire to get their music into rotation on Pandora.
Due to the enormous volume of Pandora's current library, the service is able to be very selective about what music they add to their catalogue.  That being the case, it can be very difficult for unheard artists to get onto Pandora.
Just because it's difficult to get onto Pandora, doesn't mean that you shouldn't try.  Pandora is always looking for music to cater to very specific interests in niche genres, and you never know when they might be looking for more music like yours.
In an article written for DIY Musician, Michael Zapruder, Head Music Curator for Pandora, explains what Pandora looks for in content submissions. >> Read the article here
How To Submit Your Music To Pandora
The first thing that you need is a Pandora account.  It's free and you can sign up HERE
You will need a UPC and your music must be for sale on Amazon.   If you don't have a UPC and your music is not available on Amazon, you can publish your music for sale on Amazon and get your UPC for free using a service called CreateSpace
Have 2 tracks ready for submission in MP3 format.
You can submit your music and UPC code HERE
You will then have to wait for the approval process to be complete.  You can check the status of your approval HERE
Don't be discouraged of your submission is rejected at first.  Pandora has a very large library of music and receives a lot of submissions.  There are a number of reasons why Pandora may not accept your music, and they will provide an explanation if your submission is not accepted.  If this happens, just wait a little while and try again later.
Another great service that utilizes an artist discovery feature is Slacker Radio.  Slacker Radio has about 7 million members, and has licensing agreements with all major record labels, many independent labels, and most digital music aggregators.
If you're an independent musician, and you want to get on Slacker Radio, you will need to have your music distributed by one of the following digital music aggregators:
Your digital music aggregator will likely send you an email to let you know that your music will automatically be added to Slacker's music library.  If you do not receive such an email, be sure to contact your digital music aggregator to let them know that you would like your music added to the Slacker music library.
Last.fm allows musicians to create a profile and upload music for free.  With an estimated 40 million users worldwide, Last.fm is a great place for independent artists to upload their music to be discovered by fans.
You can sign up for a free Last.fm account HERE and >this article< has some good tips for promoting your music on Last.fm.
Jango is an Internet radio service and social network with 7 million monthly users that allows musicians to create profiles and upload music for free.  Music can then be discovered by other members of the site through an artist discover feature similar to Pandora.  Sign up HERE
Independent musicians can create their own custom Internet radio station with SHOUTcast.  Click HERE to get started creating your own Internet radio station
Another popular Internet radio service that's growing fairly rapidly is Spotify.  Like Slacker, Spotify requires unsigned artists to first upload their music to an artist aggregator before it can appear on the site.  For a list of aggregators Spotify works with click HERE
The above-mentioned sites are just a few of the Internet radio services that are currently popular.  If there are any Internet radio services that didn't make the list above, and you think that they might be a good resource for independent musicians, please feel free to recommend them in the comments section below.
Now that you've made it all the way through this post, it's time to take action.  Remember that taking action is the real secret to success.  Some of the above-mentioned sites will be easier to get your music on than others, so don't get discouraged if you're not accepted right away.  Just keep at it.  With enough time and effort anybody can build a large enough fan base to make a good living as an independent musician.