In June 2021, Spotify released a new live audio-only app called Greenroom — empowering artists to engage in discourse and conversations about topics that fans care about.
The app is designed to directly compete with Clubhouse, the invite-only chat app that has taken the social media world by storm. We talked in-depth about how artists can leverage Clubhouse to advance in the music industry here, so make sure to check that out.
But for now, let's take a deep dive into Spotify's Greenroom, and discuss how you can use the app to propel your career to new heights.
Spotify Greenroom: Explained
Spotify's new app capitalizes on an emerging trend in social media, operating as a space for live conversations to take place in virtual spaces called "rooms." Within each room, there are three types of "players":
Hosts: The person that starts the room and manages the discourse. In the context we're discussing, artists like you would serve as the host.
Speakers: Individuals who are permitted by the host to chime in on the topic of discussion. In many cases, speakers are pre-planned, but users can also request to speak via a button at the bottom of the screen.
Listeners: Folks who are along for the ride, seeking to gain value from what the host and speakers are bringing to the table. Listeners can also participate through the room's chat function, though the host can switch the discussion tab off, if they choose.
Anyone using the Greenroom app can serve as a host and create a room. Hosts can go live instantly or schedule sessions through the app's "Calendar" functionality after selecting a topic for discussion.
Spotify Greenroom vs. Clubhouse
Both Greenroom and Clubhouse put a measured focus on networking and impromptu discussions. However, as Greenroom is a newer platform, it doesn't yet have as many groups or room options as the competition.
Greenroom sets itself apart from Clubhouse in two key ways:
Recordings: Users can record conversations for later reference or upload to other social platforms.
"Gems": Gems serve as a means of distributing the traditional "like" button. Users can double-tap a profile to reward speakers for saying something compelling, then those gems appear on an individual's profile alongside their following and follower tallies.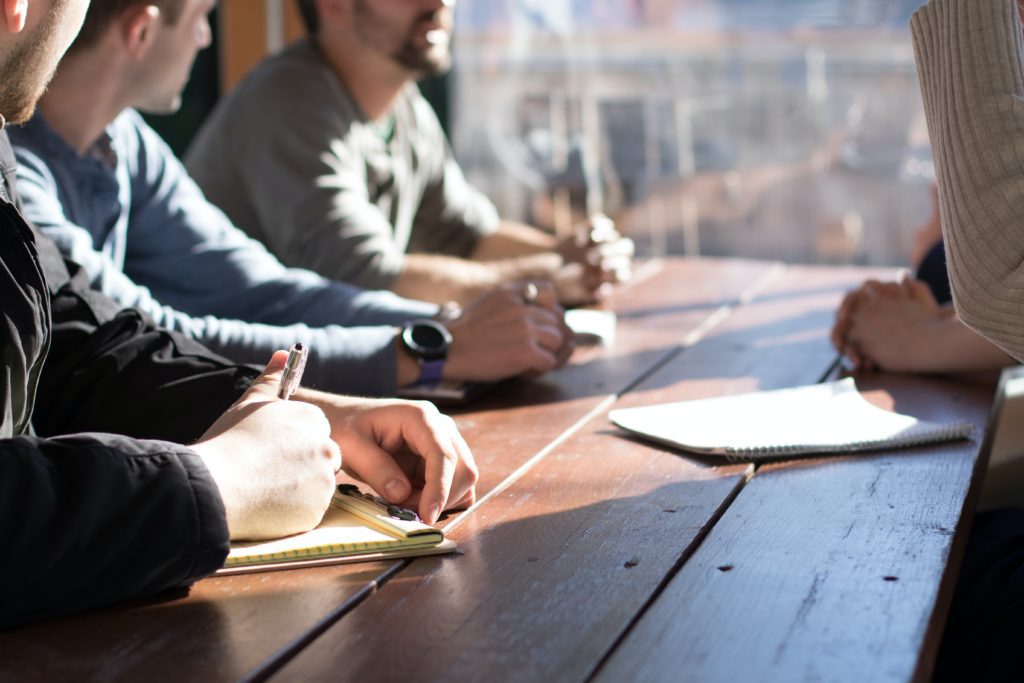 5 Ways Artists Can Leverage Spotify Greenroom
Networking
Clubhouse pioneered a new age of access for up-and-coming artists in the music industry. Artists, managers, songwriters, producers, engineers, marketers, booking agents — you name it — they're all participating in discussions on the platform.
And because Spotify has an inherent focus on music, it's a sure bet that these same folks will be participating in Greenroom. Even more exciting, many of these people are industry leaders — allowing you to connect with individuals that may have been out of reach in the past.
Become a Trusted Voice
This may seem obvious, but building up your profile with "gems" and followers can help you to assert yourself as a trusted voice in the industry. By meaningfully participating in discussions, you can get the social proof you need to get people to perk up their ears for what you might have to offer.
Eventually, this could lead to a great opportunity to serve as a host for various discussions. Not only will this make you an attractive candidate for collaboration with other artists, but it will also allow you to build your fanbase and plug your own ventures as part of the discussion.
Learn Something
As an independent artist, it's tempting to constantly push yourself towards building your fanbase. And while this is indisputably important, taking a moment to kick back with a notepad and listen can lead to long-term pay-offs.
Make a concerted effort to join rooms that genuinely relate to your career goals and aspirations. See what other people are saying, and how it applies to you. Then, with an arsenal of knowledge under your belt, circle back to networking and establishing yourself as a trusted voice.
Get in on the Ground Floor
Social media apps like Instagram, Facebook, Twitter, TikTok, and even Clubhouse are already saturated with an inordinate amount of content, making it more difficult for your assets to rise to the surface.
It's not often that a big player like Spotify releases a new app. There is almost a guarantee for a robust user base, and a clean slate for new voices to assert their presence.
So: download the app as soon as you can. Become familiar with the interface. Ask yourself: What are people talking about? What are people not yet talking about, and how can you fill that void? The sooner you establish yourself, the better!
Monetize with Creator Fund
Unlike Clubhouse that has not yet put forth a plan for creators to monetize on the app, Spotify has indicated a dedication to supporting and rewarding creators for the communities they build through Creator Fund.
As an independent artist, you know how difficult it can be to monetize your music. Exploring different platforms to monetize can allow you to generate revenue that can be kicked back into your primary pursuit of making music — and Greenroom could be one of those opportunities.
Make sure to register for the Creator Fund when you create your Greenroom account to be eligible for payment. If you can grow an audience, you'll be paid weekly, and you could see a new income stream that revolutionizes your career!
Conclusions: Spotify Greenroom for Independent Artists
The release of Spotify Greenroom provides a unique opportunity for independent musicians to:
Network with industry leaders
Make money off being a trusted voice
Learn new ways to advance their career
Getting in on the ground floor of Greenroom could lead to big pay-offs, both monetarily and in building your fanbase, for your career as an artist. So create your account, see what people are talking about, participate in conversations, and see where you can fill in the gaps!