Musicians deeply understand the importance of their sound, but one of the most important ways to maintain a strong fanbase and get new listeners to press play is to have a compelling visual presence. This article covers the basics of establishing quality visuals as an artist in the digital age, as well as guidance to maintaining cohesion and authenticity.
Artist Profile Pictures
If you have a verified artist page on Spotify, you should have already submitted a profile picture. You can edit this at any time through the Spotify for Artists app, although it usually takes several days for the change to appear publicly. An aesthetic that appeals to you and your target audience will help listeners know a little more about what to expect from your music. But what kinds of factors go into your visual aesthetic as an artist?
A few basic key elements of the term "visual aesthetics" include color, shape, pattern, texture and movement. When selecting your artist profile photo, ask yourself questions like, "Do these colors make me feel the way I want my listeners to feel?" "Do the patterns and textures incorporated in this photo enhance the intended emotional response?" "Do our facial expressions accurately portray our attitude as a band?" "What are we doing in this picture, and does that action represent us?"
You'll also want to select a memorable and easily recognizable image. It's a good idea to match your profile picture across platforms, so when fans look you up on social media, they'll know they've found your official account. If you're trying to sell music or merch on Bandcamp, promote your upcoming livestream on Instagram, and invite new listeners to your Spotify page, it's a great idea to have matching pictures, so they know your page is the real deal.
Album and Single Art
Album art and single art are the visuals you and your fans will see and share the most. Album art can be based in photography, collage, painting, graphic design, and any combination of multimedia, as long as you can share the final product in a .jpeg or .jpg file format for final delivery and distribution.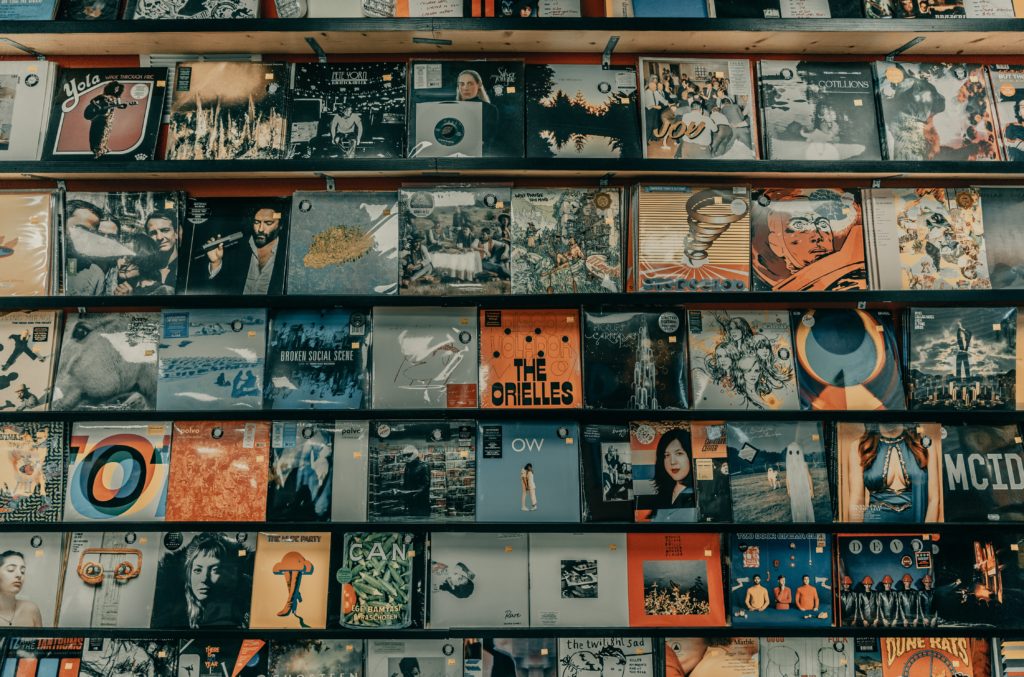 Some musical artists are blessed with visual art chops and enjoy maintaining control over their albums' visuals, and that's an amazing source of interview material, Instagram captions, and meaningful dialogue with your fans. However, if you're focused on the music and not as blessed with visual art skills, album art presents an amazing opportunity for collaboration. Friends, co-workers, classmates, or family members who create visual art that shares its values and aesthetics with your music could be grounds for a rewarding partnership. And an artist with whom you have a strong relationship will likely be willing to help promote your music, since it simultaneously helps promote their own artistry.
The most predominant color of your album art will also be the color of the banner displayed on listeners' phones while playing your song. You should work closely with your artist, or keep in mind for yourself if you are your own visual designer, how you want your listeners to feel and select your color palette around that. Many studies have been done on how colors influence an audience's reaction. Color selection is a huge part of your personal branding.
Spotify has also recently begun inviting artists to use a tool called "Canvas" to share short, eight second looping videos to play with their song. This is another amazing opportunity to create a multimedia experience around your music and engage listeners with multiple senses. This video can be snippets from a music video you're promoting, videos from the recording process, or just artsy shots that represent or accompany the song. Spotify boasts the inclusion of these videos increases your engagement, making listeners more likely to continue listening, share the track, save the track, and visit your artist profile page. You can learn more about it here: https://canvas.spotify.com/en-us
Music Videos
Fans love music videos. Point blank. Ride-or-die fans and new listeners alike will love engaging with videos that include footage of the artist and a visual representation of the story they're telling through their music. YouTube is powerful– music videos makeup 95% of its most popular videos, and YouTube is the second largest search engine, following Google. Lean into that power!
Whatever style your music videos end up being, make sure the thumbnail is flattering and intriguing, and make sure it matches your aesthetics and values as an artist.
Plus, if you spend all that time and energy creating a beautiful music video that genuinely represents your art, enhances your listeners'/viewers' experiences, then you'll have infinite stills to pull and turn into valuable social media posts.
Posters, Liner Notes, Zines...
If we ever get back into performing live, (or if you want to promote your living room live streams…), having some graphic design skills or a trusted artist who can create a compelling poster will always be a plus for promotion. Be sure to include the date and time, performance venue (or how to access the live stream,) your name, and any other important details. If more than one band is playing, make sure to include them on the poster and check in with them to ensure they're happy with the poster design, too.
More niche physical mediums like liner notes and zines can be extraordinarily meaningful to fans. You can sell these online or at your concerts (and then have something special to autograph…). In the age of digital streaming, your die-hard fans will appreciate and treasure the ability to hold the physical art that represents you in their hands.
Let us know if you're interested in articles covering any of these topics more in-depth by leaving a comment or sending us a DM.
Sources: