Some of the more popular music festivals in the United States can attract over 100,000 attendees.  With numbers like that, it's no wonder that just about every live act aspires to take the stage at one or more of these festivals every year.
Many artists nowadays are growing substantial followings and selling a ton of music without ever even performing live, if that sounds like an interesting approach click here to learn how it's done.
However, if you're the type of artist that prefers to play live and connect with fans that way, continue reading... because playing major music festivals is a great way to gain a ton of new fans with just a single performance.
How does a relatively unknown band get the opportunity to play before a huge audience at a major festival like Bonnaroo or Coachella?  And how can bands take full advantage of the opportunity when they get there?
In this post, I will first give you some tips to get you on the right track to playing in front of thousands of new fans at major music festivals.  Then I'll give you some tips that will help you win over the crowd and turn them into superfans!
First things first…
Do You Have An EPK?
One of the first things that every band needs to have if they want to be taken seriously is an EPK (Electronic Press Kit).  Press kits have been an essential part of the music industry for decades.  Now that pretty much everything in the world has gone digital, EPK's have replaced physical press kits as the industry standard.
An EPK is basically just a resume for your band.  You will want to include things like photos, audio files of your music, videos of live performances (if available), band/artist bio, discography, any past press coverage available, a press release detailing current news about the band (album release, tour info, etc.), contact information, and your rider.
You have a few options for creating an EPK.  You can have a web developer make one from scratch to go on your band's website, you can find a free service online, or you can go with a paid EPK creation service.
Okay… so you have some options for how you build your EPK, but I'm just going to cut to the chase… use Sonicbids.  Sonicbids is the standard for the music industry, so don't try to reinvent the wheel here.  You want to use what the rest of the industry is using, because it will help get you in front of the right people.  Top booking agencies, promoters, labels, and other industry professionals use Sonicbids, so you want to have a presence there.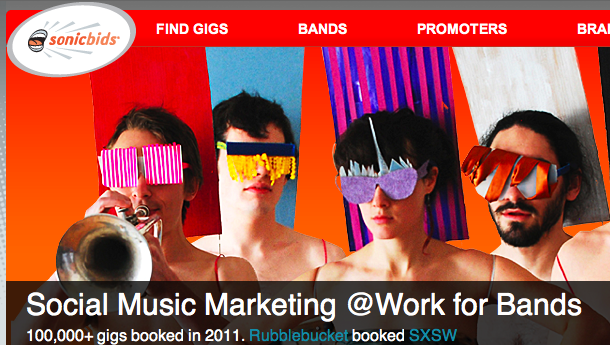 Sonicbids is an easy and affordable way to put together a very professional looking EPK.  Plus, the service is very similar to a social network.  It connects bands with music industry professionals, so you can get more exposure to the right people.  Click HERE to get started setting up your EPK on Sonicbids.
Now That You Have An EPK, You Should Start Looking For A Booking Agent… or Two… or More…
Trying to set up your own gigs can be very time consuming, and it can sometimes be difficult to book the exact venues you want to play (especially large music festivals).  Having a booking agent can be a tremendous help when it comes to getting gigs.
Here are a few tips for finding the right booking agent(s):
Keep in mind that most booking agents only service certain geographic regions.  That means that you very well may need to find multiple agents if you plan to tour outside of one geographic area.
Find out what venues/promoters the agent has relationships with.  If you want to book Coachella, you'd better make sure that your agent for the southwest region of the United States already has clients playing Coachella every year.
If you sign a contract with an agency, be sure that it includes a "honeymoon" period.  A honeymoon period is a set amount of time that either party can cancel a contract for any reason without penalty.  This is important, because you don't want to be tied into an agreement with an agency that isn't getting you work and won't allow you to use the services of another agency.
Remember that I am not an attorney, and this blog does not constitute legal advice.  If you are getting into any kind of contractual agreement, you should always consult an attorney first.  If it pertains to your music career, you will want to hire an entertainment attorney that specializes in the music industry.
Don't ever pay any kind of upfront fee or set amount of money to an agency.  A booking agent works on commission.  That means that they don't get paid unless you do.  Booking agents typically take a 10-20% cut of the gross revenue that comes in from a gig that they book for you.
Use the phrase, "What can you do for me?" when interviewing agencies.  Remember that this is someone that should be working for you.  They should believe in your talent, and they should be able to get you results (a.k.a. gigs and $$$)
Build Your Resume With Local Festivals
Most of the big time festivals are going to want to see that you can draw a crowd before they book you… even for a smaller stage.  Don't worry though.  You can spice up your EPK with a few solid resume builders.
If you don't have a very large following just yet, you may consider setting your sites on some smaller festivals and events in your community before going after the bigger gigs.  Playing some smaller festivals will help get you ready for the big ones, and they're still a really good way to get a ton of exposure.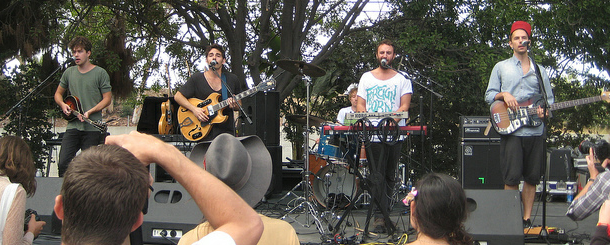 Featured Image: Local Natives | Photo: ricardodiaz11 /Flickr/Creative Commons License
There are tons of music festivals, and other outdoor events that feature live music, going on all of the time.  Many of them are put on by community-oriented non-profits.  These kinds of events are great for relatively unknown bands/artists to get some really good exposure and build their EPK for bigger festivals.
Festivals and live events put on by non-profits and small time promoters are usually constrained by relatively small budgets.  Usually the organizers of such events would be very happy to book some lesser-known bands if it will help them save some money.  You may have to charge less than you normally would, or even play for free, but it could be a really smart move long-term.
Playing a live event that has 5, 10, 20 thousand people or more in attendance can have a lot of benefits, even if you aren't getting paid.  Just think about a few of these benefits:
More exposure for your music
Experience playing in front of large groups
Add festival experience to your EPK (this will look good when submitting your EPK to larger music festivals)
Record video of your band playing in front of a large group of people (another great addition to your EPK)
A lot of musicians get hung up on the amount of money that they're getting paid for their gigs.  All too often, musicians get their egos wrapped up in the dollar amount that someone is willing to pay them for their service.  Ego can be a very dangerous thing for musicians.
It's important to remember that it just takes one show (at the right time and in front of the right person, of course) to get that break that will take your career to the next level.  If you're serious about having a successful career in the music industry, sometimes you have to be more concerned about how many people are getting to hear your music and see you perform than how much you're getting paid.
Here are some resources that will help you find live events that you could possible book in your area:
| | |
| --- | --- |
|    | JamBase's Festival Guide is a great resource that will help you discover upcoming events in your area. |
| | A database of over 40,000 community festivals, fairs, and special events.  Festivals.com |
| | Website that will help you find a wide variety of events coming up in your area.  You can browse by event types including festivals, fundraisers, neighborhood, and more.  Eventful.com |
| | Another site to help you find upcoming events in your area.  Zvents.com |
Are You Ready For The Big Time?
If you feel that you're band is ready to start booking major music festivals, here's what you should do…
Bonnaroo – Manchester, TN
Bonnaroo is held every June in a large field in Manchester, TN and caters to virtually any genre of music imaginable.  The festival takes place over a period of 4 days, and over 80,000 people attend the event each year.
If you would like to perform at the next Bonnaroo Music Festival, you can submit your EPK using Sonicbids.  You can view Bonnaroo's Sonicbids profile and submission listings HERE
Coachella – Indio, CA
Coachella is an annual music festival that takes place in the desert of Southern California every April.  It's one of the largest festivals in the United States, and it's continuing to grow.  This past year, Coachella started being held two weekends in a row, allowing for even more concert-goers to attend (and more bands to play).
Unfortunately, due to the immense competition to play the festival, the best way to get booked for Coachella is to sign with an agency that already books bands for the festival.
However, if you are looking to sign with an agency that can get you into Coachella's lineup, you might try The Windish Agency.  The Windesh Agency represents 20 of the 143 acts that were billed at Coachella in 2012.  They also represent acts at a number of other annual festivals including Bonnaroo, SXSW, Lollapalooza, and Austin City Limits.
SXSW – Austin, TX
SXSW (South by Southwest) is a set of festivals and conferences in the film, interactive media, and music industries.  SXSW Music is one of the best opportunities for an up-and-coming band to get noticed.
Music fans and industry professionals alike attend the event.  SXSW Music typically runs for about 6 days in the spring, and over 2,000 performers showcase their talents.  SXSW has been a launching pad for a number of successful recording artists including John Mayer, The Polyphonic Spree, and James Blunt.
If you would like to showcase your band at SXSW, you will need to submit your EPK using Sonicbids.  Visit SXSW's Sonicbids profile HERE
At the time of this writing, it is too early to submit for the 2013 festival.  For more information on submitting to the next SXSW Music Festival you can visit the SXSW FAQ or email SXSW Music at [email protected]
More Festivals
You can search for additional upcoming festivals to submit your EPK to using Sonicbids HERE
When You Finally Take The Stage…
It's important that you take full advantage of any opportunity to perform in front of a large group of people.  Here are a few tips to get the most out your live performances:
Record video footage of the show.  If you're goal is to get more live gigs, it's important to have quality video (and audio) recordings of live performances.  Putting together a highlight real of your live shows for your EPK can really help you book more gigs.It's especially important to capture footage of your band playing in front of a large audience.  Bigger audiences give you more social proof, and make promoters want to book you for their next big event.
Win the crowd over with covers.  Be sure to sprinkle some popular cover songs into your set when you're playing in front of a new audience that isn't familiar with your music.  I know that you want to play originals, but covers are going to get you noticed.People like to hear music they're familiar with. It's just that simple.  Play some covers to get the crowd warmed up to you.  After you play a few songs that the crowd knows by heart, they'll be hyped up to hear your original material.
Network.  Talk to as many people as you can before and after your set.  You never know whose going to be in the crowd.  This is especially important at events like SXSW, where there are a lot of music industry professionals roaming about.
Collect fan emails.  Whenever you have the opportunity to play in front of a large group of people, you absolutely have to make sure that you get your fans' email addresses so you can follow up with them and build a relationship. This is one of the single most important things that you can do to promote yourself as an independent artist. Click here to read a detailed article that will provide you with a solid strategy for rapidly growing your fanbase through email marketing.
Making it to the main stage at Bonnaroo or Coachella can be a long and arduous journey, but anything is possible with the right tools, knowledge, and a passion for what you're doing.
I hope the information in this article has been helpful.  See you at Bonnaroo 😉
Featured Image: Bonnaroo | Photo: Jason Afinsen /Flickr/Creative Commons License