Every aspiring musician wants to get their playlist on Spotify; that's a given. If you've done a little bit of research, you can also probably tell that there's a lot of value in getting your music on Spotify playlists. Getting your music on a Spotify playlist can lead to more streams, more exposure, and more fans, period. But as an independent artist with little to no budget how do you do that?
Luckily, it turns out there are lots of clever little tricks to get your music on Spotify playlists - for free!
While it's true to a certain extent that you get what you pay for, you don't have to be absolutely loaded or have the backing of a traditional record label to get your music on the right playlist. You can do it by yourself, and I'm going to show you how.
Getting added to Official Spotify Playlists
One way to get added to a Spotify playlist is by actually submitting your music to Spotify's editorial staff itself. It costs you absolutely nothing to submit a song - and it could be huge for your track. Basically, you should do this every single time you release new music. Here's how:
First things first, you'll need to set up your Artist Profile on Spotify. Head over to artists.spotify.com and follow the instructions there to get your profile started. Now, any time you have a new release scheduled, it'll appear on your Spotify for Artists dashboard.
So when you see your upcoming song on your dashboard, you'll also see a button that says "Pitch a Song". They'll ask for a little more info, like what genre your song is, and you'll be able to submit it for review. Spotify staff will then review it and see if it's a good fit for one of their official playlists.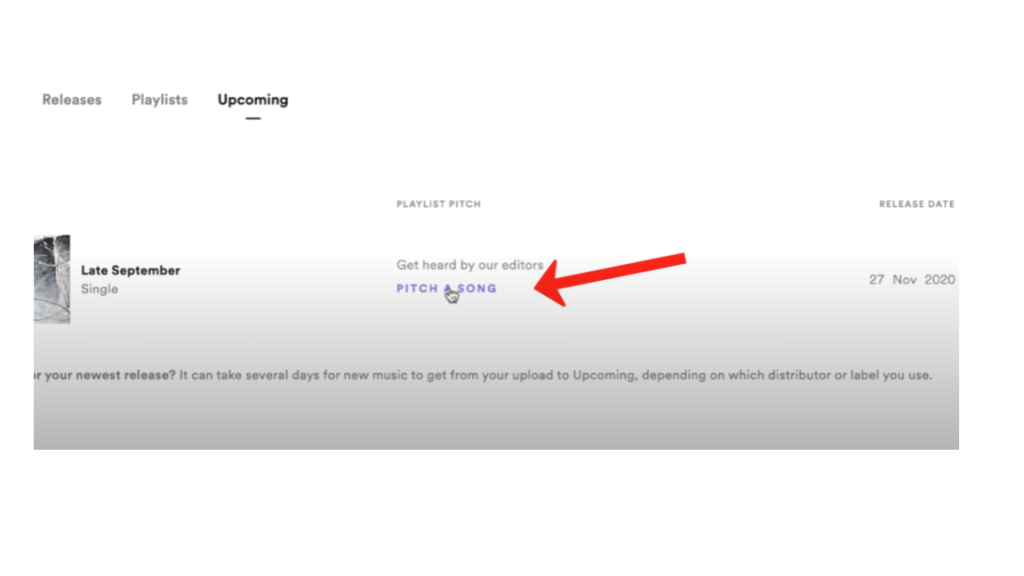 The whole process is super quick, super easy, and shouldn't be missed. If you only take one thing away from this article, let it be this one thing. Every single time you release a new song on Spotify, pitch it to Spotify itself.
Three ways to get added to Listener Curated Playlists
Number 1: Check out JamMob.com's list of Playlist Curators
We've done the work for you! Head on over to https://www.jammob.com/playlist-curators/ and take a look at the group of curators we've already found for you to contact. This list is being updated all the time, so don't take this list as definitive; but if you have a general idea of what genre your music fits into, we may have a lead for you.

Once you select your genre, you'll find a list of Spotify playlists to choose from. Once you choose one, you'll see a contact email for that curator and a link to that playlist. One thing: These playlists change frequently, so if the one you're searching for is gone (or renamed), take a look around and see if that curator has other playlists that might make a solid fit for your song.
Now this, I can't emphasize enough: When you reach out to a playlist curator, be professional. This isn't an Instagram dm; represent yourself and your style clearly, like someone who actually wants to work with this person in a business capacity. If you want a few tips and tricks on how to do that, check out this video: How To Contact Spotify Curators To Get Added To Playlists
Number 2: Use Chartmetric
Another great way to get on Listener Curated Playlists is to check out a website called Chartmetric (https://www.chartmetric.com/). You can create a completely free account here - although, of course, they do offer a paid tier - where you can browse Spotify curators. Make sure to check the option to "exclude Spotify or major label brands" and the box that says "Having social URLs".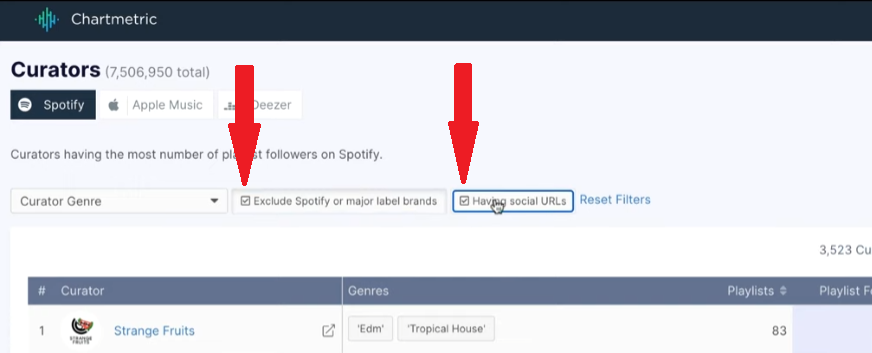 Here's why: On the free tier, we're limited to a 50 curator view. Major label brands are a waste of your time as an independent artist, and we're already submitting to Spotify directly via step number 1. Having a curator's social URL is important simply because we're going to contact them.
So select your genre, and take a look at a few curator profiles. You'll see options to contact that person via Twitter, Facebook, etc. And there you go! Remember - and yes, I'm going to keep repeating this - to be professional when contacting curators. Be clear, be respectful, and let them know who you are.
Number 3: Use Submithub
Another similar website is Submithub (https://www.submithub.com/). It's also completely free to sign up for but there is, as always, also a paid option available. Once you create your account, you'll see another list of curators, but you'll also see options for influencers of several different kinds including YouTubers, Twitch streamers, and even radio stations.
Focusing on Spotify curators for the moment, the process is pretty similar to what we've done so far. Select your genre (or as close as you can come to it), check out some curators, and submit your song to them from there.
The difference here is that you need Submithub "premium credits" to do this, and this is where the paid option comes in. You get premium credits for free over time; not a lot, but you do get them. This is where the question of whether you're more willing to spend time or money comes into play: As with everything in life, it's one or the other.
Not to worry though, as we have another way to get some free Submithub credits. You'll see an option near the top of the screen called "Hot or Not". Basically, this is a program that rewards you with credits just for listening to other artists' music and then leaving them some feedback. While you're doing this, they're doing the same for you. It's a great - and 100% free - way to earn those premium credits.

And you were going to be listening to music anyway, right?
How to get onto Spotify's Algorithmically Generated Playlists
I'm sure you're familiar with how Spotify works, but to put it simply: If Spotify's algorithm believes that your music would be a good fit for a particular listener, it will recommend it to that listener. Before it can do that however, you need to get more listeners in the first place. The algorithm is more likely to detect your song the more it's been listened to already.
Fortunately, there's one simple action you can take to make Spotify way more likely to pick up on your music: Ask your fans to follow you on Spotify. Anywhere you're connecting with your fans, whether that's at live shows or over social media, make sure to ask them to follow you on Spotify.
Your new music will be featured in your fans' Release Radar, getting you more listeners and making you more attractive to Spotify's algorithm. It's an extremely easy way to get onto these playlists, and it only requires you asking your fans to follow you on Spotify. It doesn't hurt to ask, and I guarantee most of them are perfectly willing to do it.
The Bottom Line
So that's it! 5 simple (and completely free) ways to get your music on Spotify's playlists, your music in new ears, and grow your fanbase. Let's do a quick recap:
Pitch your song to Spotify's official curators and get it featured on one of Spotify's playlists
Check out our list of user curators at https://www.jammob.com/playlist-curators/
Sign up for a free Chartmetric account and contact curators from there
Sign up for a free Submithub account, use the Hot or Not feature, and submit music to curators directly
Get on Spotify's algorithmic playlists by asking your fans to follow you on Spotify
There they are, five free ways to get your music on Spotify playlists. If you want to build your Spotify audience, follow these simple steps and start growing today.